BABOLAT PURE DRIVE TEAM TENNIS RACKET (2021)
This racquet is recommended to tennis beginner and intermediate with stronger arm.
The weight ( with string ) is 301g is classified as mid-weight racquet.
Check the specification printed on the racquet, make sure it is this one.
The name should be exactly * Pure Drive Team 2021 *, any one word different ( e.g. 2021 becomes 2018, or there is one more word such as VS/Plus on the name ) indicating that is another racquet.
Better go to racquet shop and get a feeling of the racquet, make sure comfortable with it before deciding to buy.
Alternatives :
In case this racquet is a bit heavy, another model called Babolat Pure Drive Lite or Babolat Aero Drive Lite could be considered. They are from the same family but lighter.
Or Babolat not available, I recommend other brands Dunlop (cheaper but very good) and Yonex (very popular recently). Could choose the similar specification in particular several items :

strung weight less than 300g,
length must be 27 inches,
head light, Head Size 100 in sq ( exactly 100 )
Grip Size ( Very Important ) :
Recommended String and tension :
Using Polyester String ( e.g. Tecnifibre Blackcode 17 or Solinco Tour Bite Soft 17 ) with tension 50 lb or even 1-2 lb less.
Where to buy ( no any interest and commission for this recommendation )
BABOLAT PURE DRIVE TEAM TENNIS RACKET (2021)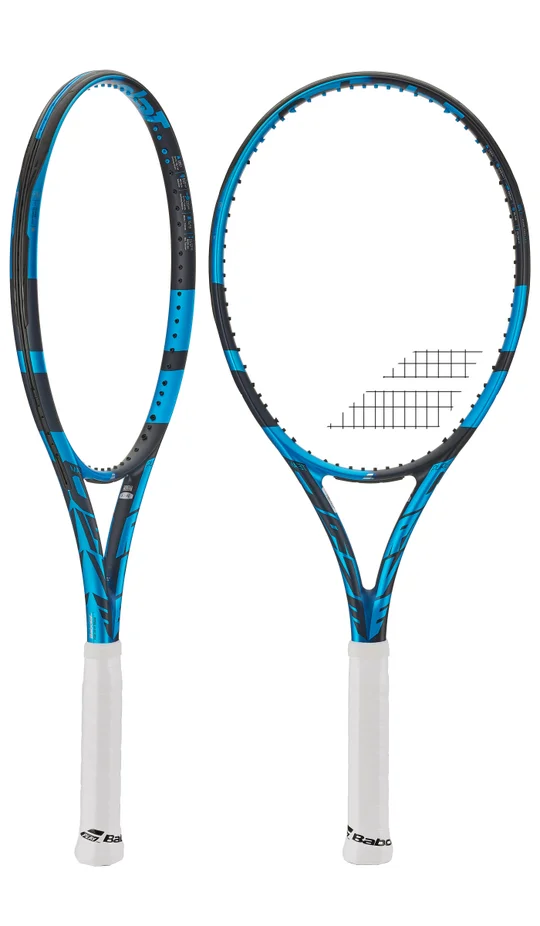 Specifications
Head Size: 100 in / 645.16 cm
Length: 27in / 68.58cm
Strung Weight:10.6oz / 301g
Balance: 12.85in / 32.64cm / 5 pts HL
Swingweight: 313
Stiffness: 69
Beam Width: 23mm / 26mm / 23mm
Composition: Graphite
Power Level: Low-Medium
Stroke Style: Medium-Full
Swing Speed: Medium-Fast
Racquet Colors:Blue
Grip Type: Babolat Syntec Pro
String Pattern:
16 Mains / 19 CrossesMains skip: 7T,9T,7H,9HTwo PiecesNo Shared Holes
String Tension: 50-59 pounds
For player prefer a lighter racquet, BABOLAT PURE AERO LITE 2019 (270g) could be considered.
https://www.aplus-tennis.com/products/babolat-pure-aero-lite-2019